Please follow and like us:
UK Only Opportunity
First things first….. matched betting is NOT GAMBLING!
When I was first introduced to this opportunity my first thought was – "sounds risky."
This lead to a few hours doing my research and in this simple introduction to matched betting, I will attempt to address all of your doubts and concerns.
What Is Matched Betting?
Matched betting is a process in which you guarantee a profit by exploiting the free bets online bookmakers offer new and existing customers.
As you may be well aware gambling in the UK is big business and its hard to avoid the number of advertisements banded around social media platforms this day and age.
Matched betting is a simple process to follow, however, you need to be committed to following the process and staying focused to achieve good profits.
Two Sides To The Matched Betting Process
In the image to the right, you can see the 2 sides to betting.
The way in which you guarantee a profit with this system is by essentially involving yourself with both sides of the betting game.
So… if you bet on Manchester United to win a game of football, you would cover this bet by also betting on them NOT to win. This essentially is the fundamental basics of matched betting.
Is Matched Betting Legal?
YES! Matched betting is 100% legal. Don't feel I need to say more than that, to be honest.
Is There Realy No Risk Of Losing Money?
As this money making opportunity involves placing and laying bets you will need a float to start.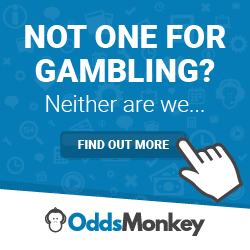 The minimum recommended float is £50, however, if you have more funds available to use you can hit bigger profits faster.
As you are covering your bet by laying it off with an exchange and providing you follow instruction it is not possible to lose a penny with this process, however, if you choose to have a few pints or glasses of wine and don't check your odds match or bet on the wrong game, horse, tennis match, whatever, YES you could lose a few £££.
In a nutshell, the process of matched betting is risk-free, not concentrating on what you are doing with each bet you place and lay could end up with a loss, so be careful and you cant lose.
Where To Start
The process of matched betting would be very time consuming and complex if it were not for websites which provide you with everything you need to make tasty profits.
In my honest opinion using a match betting tool such as Oddsmonkey, the process of matched betting is quite fun and very rewarding. Oddsmonkey provides training, video tutorials, profit trackers, an online community packed with others making money in this game.
Everything you need to maximize this opportunity is available on this platform and you can set up an account for FREE.
Overview And Site Ratings
Website URL: www.oddsmonkey.com
Training: 9.8 out of 10
Support: 9 out of 10
Tools: 9.5 out of 10
Price: Starter Member (free) Premium member (£17.99 Per month or £150 Per year)
Motivated-parent rating: 9.5 out of 10
My Final Word
Matched betting certainly won't be for everyone.
If you consider yourself to be patient and know your way around your internet browser (google chrome, explorer, firefox etc) you may really enjoy this opportunity.
People have made thousands in profit using this process and still to do to date, and remember, it's all tax-free.
Like all money making opportunities available in the online world, there are certain things I would personally like to make you aware of with this opportunity and will be uploading a video and additional blog on areas which will help you understand and maximise on your profit and overall matched betting experience.
Personally, for me, I don't see matched betting as an actual business opportunity.
In the start for me matched betting was something to give me some extra disposable income, however, I did go on to make some sizable profits and today matched betting covers other online business costs that I have, such as paying for the building and hosting of the website you are on right now, (More on that here) and some extra pocket money.
Matched betting is certainly worth a try and you can sign up for free with OddsMonkey here and complete the training and the first two profit-making guides at your own pace.
The premium option with OddsMonkey (£17.99 per month) is simply added value and cuts out all of the hassle and complexities of the world of matched betting.
The premium option will open the door to every other free bet offer across the online betting world as well as access to the OddsMonkey community where you can talk to OddsMonkey staff and other members about anything matched betting…….. (or the weather if you fancy)
The video tutorials within OddsMonkey literally walk you through the process of each transaction resulting in only one thing……..
PROFIT.
Please check out my additional blog on this money making offer here and remember……
THERE'S NO SUCH THING AS A STUPID QUESTION.
So please ask away….
Happy profit hunting people
much love
Lee
MP
Please follow and like us: